During the financial crisis of 2009, marketers made a shift from direct mail to focus on digital marketing tactics, when reduced budgets required cost-cutting measures.
Over the last few years, though, direct mail marketing has seen a resurgence. Last year, Forbes published an article noting that people spend 25% more when direct marketing and email marketing tactics are combined, and synchronizing direct mail offers with targeted digital advertising can drive a 44% lift in conversion. Businesses leveraging direct mail as part of an omnichannel marketing strategy are on to something, and it won't be long before more and more enterprises catch on.
While many marketing departments have long considered direct mail an "old-school" tactic, the data suggests that it's time to stop pitting digital versus direct, and start using the strategies cohesively for the best business results. If you're offering direct mail or marketing services to your customers, you need to be positioning each as a complementary strategy to help their business grow, as well as your own.
Why Direct Mail?
Quite simply, direct mail works. And it works because it creates a different neuropsychological impact than digital tactics. In a study produced by Canada Post and True Impact Marketing, they found that, when compared to digital tactics, direct mail:
Required 21% less cognitive effort for targets to process, and also elicited a much higher brand recall;
Stimulated a 20% higher motivation response among recipients; and
Surpassed the motivation-to-cognitive load threshold ratio.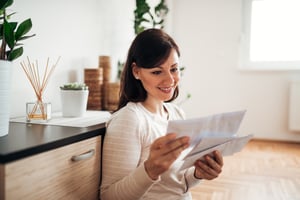 Direct mail also is more likely to be opened by your customer's prospects: consider that 56% of people who receive direct mail open it, versus just 22% who open marketing emails. The Royal Mail, in their "The Private Life of Mail" eBook, also noted that, "[i]n psychological experiments, people value something they can see and touch 24% more highly than something they can only see."
Why Digital Marketing?
Having a comprehensive digital marketing strategy allows your customer's targets to find them - whether they randomly stumble across a display ad, are served custom-targeted account-based marketing digital ads, or find your customer through a Google search. And while digital marketing can be costly, there are several tactics, like email, that have relatively low start-up costs.
Isn't Direct Mail Expensive?
That's probably a common objection you might hear from your digital marketing customers. In fact, research conducted using pURLs for direct mail campaign tracking revealed that "[m]arketers who use printing as a component of their digital campaigns find their cost per acquisition is much lower when compared to channels like Facebook or Google."
Most enterprises today use custom web landing pages, QR codes, coupon codes and trackable phone numbers to determine the success of any direct mail initiative. Your customers can also perform matchback analysis with their CRM data to measure long-term conversions. The point is, direct mail today can be measured and quantified to understand its performance against other tactics - allowing your customer to decide for themselves which tactics, whether digital or direct, deliver the greatest ROI for their business.
Better Together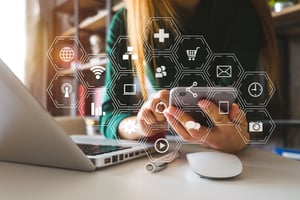 The USPS Future of Direct Mail report noted that 68% of marketers found that combining digital and direct mail increased website visits and 60% noted that the combination produced a higher ROI. So it's not a question of one or the other; digital and direct serve to reinfoce each other, supporting a cohesive customer experience throughout the buyer's journey.
Think about it: digital-only tactics rely on display ads, paid social and earned media to attract prospects and convert; direct mail-only relies sending a physical mailer out to a limited audience. But a combination of both, allows your customer to get closer to those five to seven impressions it takes for customers to remember their brand, and reinforces the message that they're trying to send.
Role of the Print Shop
Hopefully by now, you see that combining digital and direct mail tactics is a no-brainer for your customers. And if you're willing to deliver integrated marketing campaigns for your customer, you'll set your shop apart. Data collected from the SGIA Commercial Printing Panel suggests that only 25.2% of print shops say that they're "all in" to deliver integrated print/electronic media programs. 26.2% are just getting started, and 42.1% haven't gotten started or have opted out.
Print MIS streamlines the direct mail workflow and allows you to quickly and consistently quote jobs and preserve the integrity of mailing data throughout your workflows, allowing you to meet the tight turn times your customers expect. It also provides the intelligence you need to strategically time supportive digital outreach to optimize conversions and sales.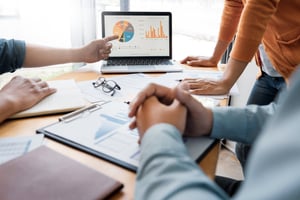 For print shops offering marketing services, make sure that you're sharing with your customers why direct mail is a critical component of any omnichannel marketing strategy. Show them how the business intelligence tools in Avanti Slingshot can enable you to deliver carefully coordinated digital and direct mail outreach to reinforce complementary messaging, and the impact that an integrated digital and physical campaign could have on their business.
For print shops that exclusively offer print and mail services, reach out to your customers to show them how augmenting their digital efforts with direct mail could pay dividends. Many marketing departments are so focused on digital technologies that the opportunity to leverage direct mail might be brand new. Show them how your technologies can make it easy to add direct mail tactics to their marketing programs, even if they've never used them before.
The trend of combining digital and physical marketing tactics isn't new, but it's certainly gaining traction. To learn more about how you can position your business at the forefront of this marketing trend to generate new business by helping your customers grow, check out our on-demand webinar, Plan, Cost and Manage All Facets of the Direct Mail Process.