A print MIS is a big purchase decision with an even bigger financial investment, and it can feel like a daunting process to make room for one in your business. Working the significant lump sum cost of a perpetual license into a single year's budget is a challenge, and then you still need to account for ongoing maintenance and support. Luckily, there are ways to make a software purchase more manageable.

When you buy through a subscription-based pricing model you can purchase a vendor's services and commit to payment on a monthly or annual basis, lessening the upfront cost to your business and lowering the barrier to adoption of your new platform. If you're considering a print MIS for your organization, here are five of the biggest benefits to making your purchase with subscription pricing:
1. You can access your solution immediately.
With subscription pricing, there is a low barrier to adoption, as you can get started learning and using your software right away. The quicker you can access what you've paid for, the faster you can see ROI. This instant access also gives you the opportunity to pilot the solution and show proof of concept with a couple features before you go all in on a full implementation, which can be especially beneficial when adopting something as influential to your business processes as a print MIS.

2. It gives you a lower-cost payment option.
If you're still unsure about how to accommodate a new solution in your budget, subscription pricing offers an alternative to traditional financing, leasing or up-front, one-time payment options that typically cost more.
3. Budget for the cost of your software more easily.
Just like your subscription fees for Netflix or Amazon Prime, fees for your software are a set monthly price. This makes it simpler and more manageable for your finance department to budget for your print MIS, as the cost is fixed and predictable.
4. It simplifies pricing.
With a subscription model, costs for things like maintenance, customer support and product updates are included in your monthly fees. Having everything under one contract eliminates the need for additional ones and ensures you always have access to the help you need to implement your software with success. Automatic updates mean you always have the most current functionalities available for use to keep your operation running at optimal levels.

5. Easily add to your contract as needed.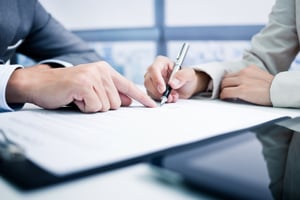 As your business grows, so will your operational needs, which means your print MIS needs to be nimble and adaptable enough to scale accordingly. This may mean adding more functionalities as time goes on, and with traditional payment options, this may not always be easy to accommodate. Through a subscription-based model, you have the flexibility to expand your product adoption and simply add new features to your existing contract at any time.
Ask about pricing options before you buy.
Considering the addition of a print MIS to help boost your operational productivity and your profitability? Book a free evaluation with a specialist to understand how you can optimize your workflows and see where a solution like Avanti Slingshot fits to help address any inefficiencies.

Ready to commit to and invest in a solution? Read more about Avanti's subscription pricing here and learn why we want to offer you the benefits of predictable cost, instant product access, simplified contracting and more.