Behind every smart, strategic business decision are the facts and figures that justify it. A recent PwC survey of more than 1,000 executives showed that data-driven companies were three times more likely to report stronger decision-making than those that did not track or rely on data.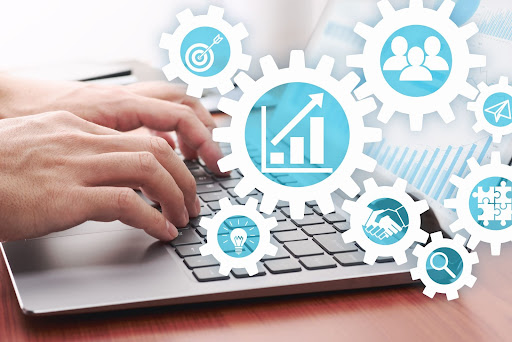 With the wealth of information you have access to across every stage of your workflow, your organization can be well-positioned to drive high-growth decisions forward. So how do you ensure you're leveraging your data to optimize the way you work and maximize your profitability?
Let's examine some of the ways data can help drive improvement across key operational processes:
Estimating
The ability for your business to generate the most profit starts with your sales team providing customers with the most accurate bids. Having access to data and reports on efficiency and time needed for each job type can help your team achieve this. Additionally, data on job mark-up and value added by work type helps sales managers and leadership identify which jobs to pursue further or discount in order to drive business and achieve the biggest possible profit margins.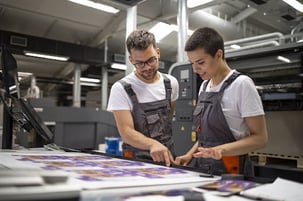 Production
With so many moving parts in the production process, there are many opportunities to capture information that can help you operate more efficiently and effectively.
Real-time data visualization of jobs in progress, staff efficiency, device status and daily schedules can reveal valuable insights about how best to load-balance, which operators may need additional training, how to optimize device utilization, which devices require maintenance and more. Making these adjustments to your processes enables you to deliver more jobs in less time and boost ROI.
Shipping and invoicing
Keeping tabs on last-mile tasks like shipping and invoicing enable you to continue meeting customer demand and exceeding customer expectations. Understanding which items are ready to ship and whether or not orders are meeting expected ship dates provides your team with insights needed in order to make necessary staff or equipment adjustments to continue staying on target.
Additionally, tracking information like billing status, outstanding invoices and customer invoice history can help accounting teams automate billing processes or determine when a customer may need to be placed on a credit hold or payment plan to keep accounts receiving from falling through the cracks.
Account/customer relationship management
CSRs need ready access to real-time status updates of any order or individual job within an order, including cost and margin data, to quickly respond to customer questions or make changes.
These reports provide CSRs and sales managers with detailed information about individual customers including status of current jobs, accounts receivable status, SLA status, and comparison of estimates/budgeted costs/actual costs on all jobs to identify opportunities to upsell or expand services to the most profitable customers.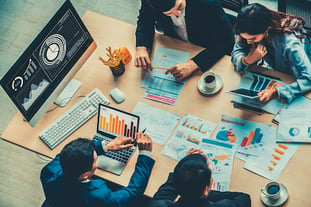 Let the facts inform the way you work
The days of making decisions based solely on intuition or "the way things have always been done" are over. Staying competitive requires a reliance on comprehensive and accurate data at every stage of your operation.
Make sure you're automating your data collection and tracking the right information along the way. Unsure of where to begin? Download our free checklist, 20 Reports & Dashboard Data Points Print Business Should Have At Their Fingertips. We guide you through the key data points and reports you should be tracking to ensure your entire staff–from sales and customer service all the way through executive leadership–has the real-time data visibility and reporting needed to make the best possible decisions.