Delivering a five-star customer experience is paramount for long-term business success. This applies to both winning new business and keeping it. However, this can be a challenge if you don't have a sustainable and efficient way to capture and manage rich and accurate data.
You need centralized access to the most up-to-date insights into your operation—from inventory levels and job statuses to customer sales history and current contact information—to ensure none of your relationships fall through the cracks. Enter, customer relationship management (CRM). A CRM system embedded in your MIS gives your organization the real-time, centralized view of data that each department needs to lead well-informed interactions with all the relevant stakeholders in your business: customers, prospects, suppliers and partners.
Additionally, a CRM enables you to automate your data collection and reporting, which helps save valuable staff time and reduces the risk of error that would result from manual entry. This ensures that everyone across your organization from salespeople to executive leadership always has the clean data necessary to acquire and retain customers.
Here are some of the key ways automation from a CRM system can support departments across your organization in delivering better customer experiences: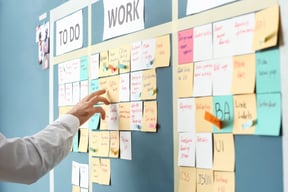 1. Provide sales teams with accountability for tasks. When sales people manage multiple prospects at once, it can be challenging to stay on top of all the tasks needed to nurture the relationship to close. With a CRM in place, automated reminders can be set up to prevent customer communications like follow-up calls or quote requests from falling through the cracks.
2. Support customer service representatives in maintaining customer loyalty. Integrating a CRM into your print MIS can show job ticket information, estimated job completion time, shipping and tracking information, open estimates and more. Access to this up-to-date data enables your customer service representatives to keep customers in the loop regarding their orders and maintain the strong relationships that breed customer loyalty.
3. Help accounting teams stay on top of invoicing. Even after a job is completed, it's crucial to stay on top of last-mile tasks like shipping and billing to deliver a truly positive customer experience from start to finish. A CRM can show accounting teams the status of incoming purchases, unreceived orders, shipment statuses, orders that haven't been invoiced yet and more. With this visibility, not only can your team ensure customers receive their orders on time, but they can also make sure payments are always accounted for.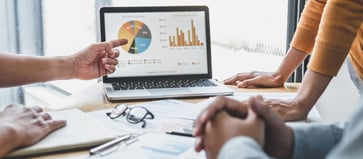 4. Enable executives to develop more effective business plans. With visibility into historical data and comprehensive reports, your company leadership can strategize for the future of the business more effectively. They can get a better understanding of which job types or customers are the most profitable and determine where to channel the business's focus to better serve your target market.
Simplify your data collection with automation
Capturing the data you need to run and grow your business can be tedious and time-consuming, but it doesn't have to be. Investing in a CRM—ideally one that's integrated with your print MIS so you can pull data from a single source of truth—can help you stay on top of all the information you need for success.
Adding the fully-integrated CRM module to Avanti Slingshot® print MIS helps your data collection and management stay streamlined and efficient so you can stay focused on your customers. Interested in seeing how this solution could fit into your workflow? Chat with a specialist for a free workflow evaluation.