Automation is a necessary function of the modern day print shop, and here at Avanti, we're dedicated to supporting print providers like you in meeting the current demands of the industry. In the coming months, we'll be hosting two educational webinars covering the value of automation and the technology you can implement to optimize your operation for maximum efficiency. With trends and technology changing all the time, there's always something to learn, and we're here to ensure you have the know-how to power your business for long-term growth and success.
Be sure to save your seats for these engaging and valuable discussions: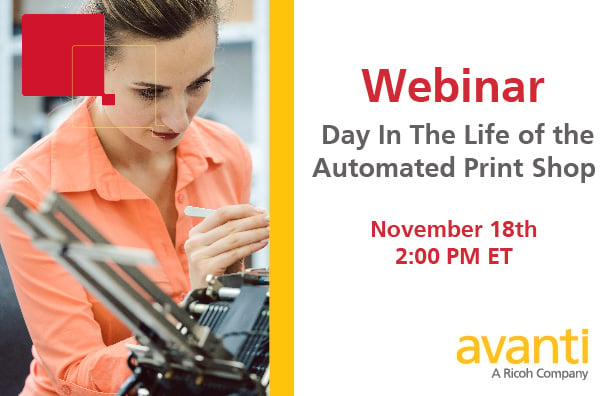 November Webinar: A Day in the Life of an Automated Print Shop
Are breakpoints and process inefficiencies in your print operation holding your business back? Interested in automating more of your workflows to boost productivity?
We know it can be overwhelming to figure out where to start, especially with so many moving parts in the print process. That's why we're going live on November 18 to walk you through A Day in the Life of the Automated Print Shop. We'll discuss how unnecessary touches erode your bottom line and how implementing automation can address these inefficiencies. Then we'll show you a live demonstration of Avanti Slingshot®, a print MIS that improves automation control, flexibility, and visibility.
RSVP for the webinar to learn tips, tools and tricks for running a more automated print shop!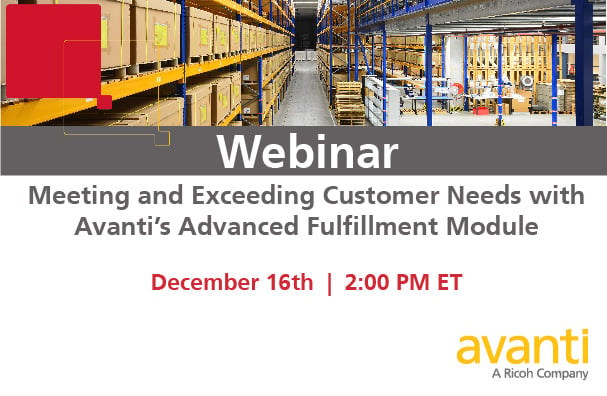 December Webinar: Meeting and Exceeding Customer Needs with Avanti's Advanced Fulfillment Module
Integrating fulfillment into your operation can be a great opportunity for service expansion and additional revenue. However, tasks like juggling a large volume of orders, tracking goods from receiving through delivery and carrying the risk of unshipped inventory can be a big lift without an optimized workflow.
In our December 16 webinar, Meeting and Exceeding Customer Needs with Avanti's Advanced Fulfillment Module, we'll be going live to show you the benefits of automating fulfillment to manage the process of customer orders and shipments efficiently. We'll discuss tips and best practices for integrating fulfillment into your operation and show you how Avanti Slingshot®'s fulfillment modules can help you stay on top of your orders, shipments and inventory.
If you want to learn how to make your fulfillment processes as seamless and as streamlined as possible, be sure to register for our December session today.
Continuing Education
The digital transformation journey can be difficult to navigate, whether you're just starting out or you're looking to do even more with automation, but learning from those with experience can help make the process feel less daunting.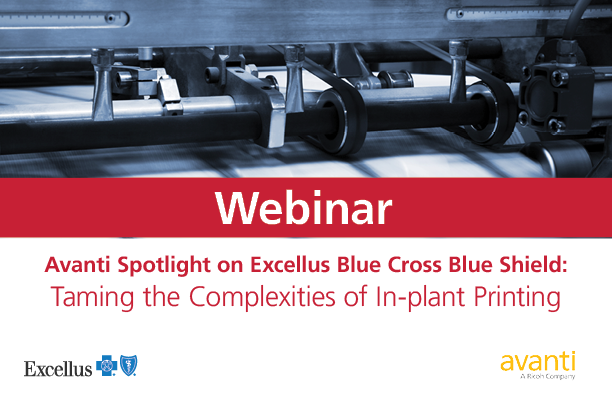 If you're an in-plant print service provider, be sure to watch the recording of our October webinar, Avanti Spotlight on Excellus Blue Cross Blue Shield: Taming the Complexities of In-plant Printing, for a peer success story in implementing automation. You'll learn how Excellus prepared for and navigated the journey to achieve end-to-end automation. They also share project success factors and best practices, and some of the key benefits of the automation solutions they implemented.
Not an in-plant printer? We've still got you covered. Check out the rest of our on-demand webinar library for educational sessions on how to streamline production, customize your customer communication, deliver a five-star customer experience, empower your team with data and more!