Pressures on print shops are growing: customers are demanding faster turn times and shorter, more targeted runs; margins are tightening thanks to tight paper and labor markets, excess capacity and rising tariffs. Print shops need to do more with less, and many are taking a long, hard look at Print MIS to see if it can help.
From our work with both commercial and in-plant shops, we see Print MIS deliver ROI and improve print shop profitability on a daily basis. On average, our customers see an ROI on their Avanti Slingshot system within one to two years.
If you want Print MIS to pay off for your business too, there are three things that you must understand before you even get started. By adopting a rigorous approach on the front end, you'll be well positioned to see an ROI from your investment in a Print MIS Solution.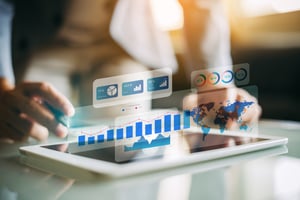 Step 1: Complete a Workflow Audit
To truly understand how Print MIS could deliver an ROI for your business, you need to know, in precise detail, how your shop operates today. And that means conducting a workflow audit, where you note every touchpoint, every manual process, every minute spent tracking down orders or completing inventory tasks or getting quotes approved. In fact, conducting a workflow audit is so important, that Keypoint Intelligence/InfoTrends noted it as a key recommendation for print shops in its 2019 North American Production Software Investment Outlook report.
You probably already have a sense of inefficiencies within your operations. A workflow audit brings all those inefficiencies into sharp focus, and surfaces new ones that you might not have known about. Things to include in your workflow audit include:
Annual Sales
Customer Service/Order Entry Functions
Customer Order Tracking
Production Management
Shipping
Purchase Orders
Chargebacks
Inventory Management
Information Flow
Reporting and Management Processes
Another important reason to conduct a workflow audit? It will help crystallize for you and your project team, the key features and capabilities that you will need your Print MIS to fulfill. You will need your Print MIS to either meet those requirements out-of-the-box, or have the ability to flexibly adapt to any custom needs that are unique to your operations.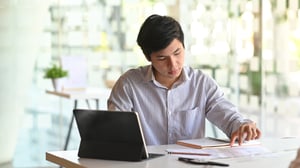 Step 2: Benchmark Your Operations
Once you have your workflow audit complete, the next phase is to understand how Print MIS could impact those workflows and what that impact could mean for your business' bottom line.
Using efficiency benchmarks from shops with Print MIS already in place, we can help you to make some assumptions about what a properly implemented Print MIS could do for your metrics and put a dollar value to the efficiencies that you can expect to see. Benchmark data suggests efficiencies gained can be anywhere from 25-90%, so reviewing how these estimates could play out in your operations helps you to prioritize the functions and features you should implement first to get the biggest payback on your investment.
While all print shops are different, taking advantage of existing benchmarks gives you the ability to skip trial and error with your Print MIS deployment and see ROI faster.
Step 3: Train, Train, Train!
An article from Graphic Arts suggests that "if commercial printers treated their MIS like they treat their expensive offset presses and digital printers, then they'd be much more efficient and profitable." Think about all the time your staff spends training when you bring a new piece of equipment into the shop, and when new firmware updates become available. Then multiply that out by how frequently you introduce new equipment or products in your business.
For Print MIS to successfully deliver ROI, you need to start thinking about it the same way. Your teams need to complete training and onboarding, and follow your established processes rather than falling back to old, inefficient habits. The best way to do this is to make sure that the Print MIS vendor you work with has high-quality, customizable training that meets your needs and responsive, ongoing support to keep your team on track.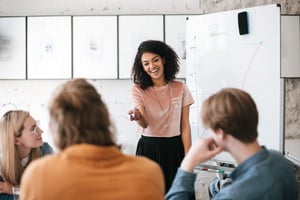 After the initial onboarding, you will need to create a culture of continuous learning and improvement within your shop. Treat each new feature and update like a new piece of shop equipment, and make sure your team completes the appropriate training and leverages new workflows and capabilities as the MIS evolves. Committing to training will help to make sure your Print MIS performs as it should, and will help you to realize maximum ROI.
BONUS: Multiply your ROI
Assuming you take the three steps outlined in this blog, you should be well on your way to delivering an ROI for your investment in Print MIS. But the savings that Print MIS can generate for your business can in turn be focused on new initiatives, acting like a revenue multiplier for your operations. This shifts the idea of doing more with less, and instead focuses on optimizing value for the business. And as Keypoint Intelligence/InfoTrends discovered, this approach seems to resonate with those print shops who have realized savings from automation.
Most print shops aren't looking at simply banking savings from generated efficiencies; rather, 53.3% of print shops planned to take the savings that automation delivers and funnel it into expanding their capabilities and developing new business opportunities. 45.9% planned to use their savings to purchase new equipment. And just under 20% noted that they planned to reinvest in more software and/or training for their staff. So delivering ROI for Print MIS allows your print shop to save, but it also allows your print shop to strategically invest to grow profitability.
Set Yourself Up for Success
Making the move to Print MIS will allow you to make the business transformations necessary for long term success. The fact is, there is an ROI to be had from Print MIS, and making sure you have the foundation set to deliver that ROI is essential. By taking your time to truly understand your own workflows, setting appropriate benchmarks, and ensuring that the entire team knows how to execute to deliver optimum efficiency, you can deliver Print MIS ROI for your business.