A new print MIS may be on your bucket list for the new year, but is it really worth the expense, integration challenges and learning curve? That's the question we strove to answer through the recent Avanti webinar, "A Day in the Life of the Automated Print Shop." Avanti experts Richard Thompson and Arron Robinson walked through typical, everyday tasks every print shop encounters on a given day to show how a print MIS like Avanti Slingshot® uses three levels of automation to make workflows smoother and more efficient.
Here are a few highlights from that discussion:
Level 1 – Breakpoints in the Workflow
With no MIS, or an outdated one, every task of a print job requires additional effort to look up information, key it into the system and locate verifying documents or notes—all unnecessary touch points. This breaks the workflow and takes valuable time that could be better spent on productive, profit-bearing work. One print industry study found that the average cost of a single touch point is $10-$15. That means your business could be losing tens of thousands of dollars a year—not to mention the cost of potential mistakes—by relying on old methods and old technology.
Avanti Slingshot eliminates breakpoints in the workflow through seamless transfers of data from one stage to the next. For instance, Arron demonstrated how you can import the print estimate directly into the sales order, pulling all the information with zero reentry needed. The system then uses that information to generate a job ticket, which can be customized with time-saving tools like bar codes to assist the production team. The production team now has everything they need in one place, including documents, deadlines, material requirements, whether the material will be pulled from inventory or, if material will be purchased, the purchase order number.
This type of seamless transfer of information eliminates rekeying, which boosts efficiency enormously, while also preventing important data, documents and communication from being lost or overlooked. All notes, attachments and specifications stay within the job record, which travels with the job from beginning to end.
Level 2: Web-to-Print Integration
The next level of automation allows you to connect your MIS to an online storefront where your customers can order products and send them directly into production. This is especially ideal for simple projects like business cards or notepads, since automation will mean you're not spending excess time on lower-margin jobs. Another perk: Your customers can track their orders independently using the web-to-print solution, so you'll save customer service representative time as well.
Not every MIS integrates well with every web-to-print solution, so you'll want to look for one with a broad base of tested options. Tight integration ensures you'll achieve automatic data transfer through XML and JDF file formats. Avanti Slingshot integrates with about 20 storefront applications
Level 3: Software Technologies
The final level of automation takes place between software technologies and your JDF-certified equipment. An MIS like Avanti Slingshot can bridge the gaps between third-party vendors and your equipment to ensure a smooth flow of information. External applications Slingshot can accommodate include prepress, ERP/financial, shipping, XML tool set and Microsoft Office.
When all equipment and applications can talk with one another, connected by a comprehensive, modern print MIS, your business is free to expand functionality and capacity with the full force of automation.
If you missed this helpful webinar and want to see for yourself how an MIS like Avanti Slingshot can take your print automation to the next level, watch it on demand here. You'll get additional detail on the three levels of automation and hear questions from attendees who, like you, want solutions to meet production challenges, grow the business and improve profitability in the season ahead.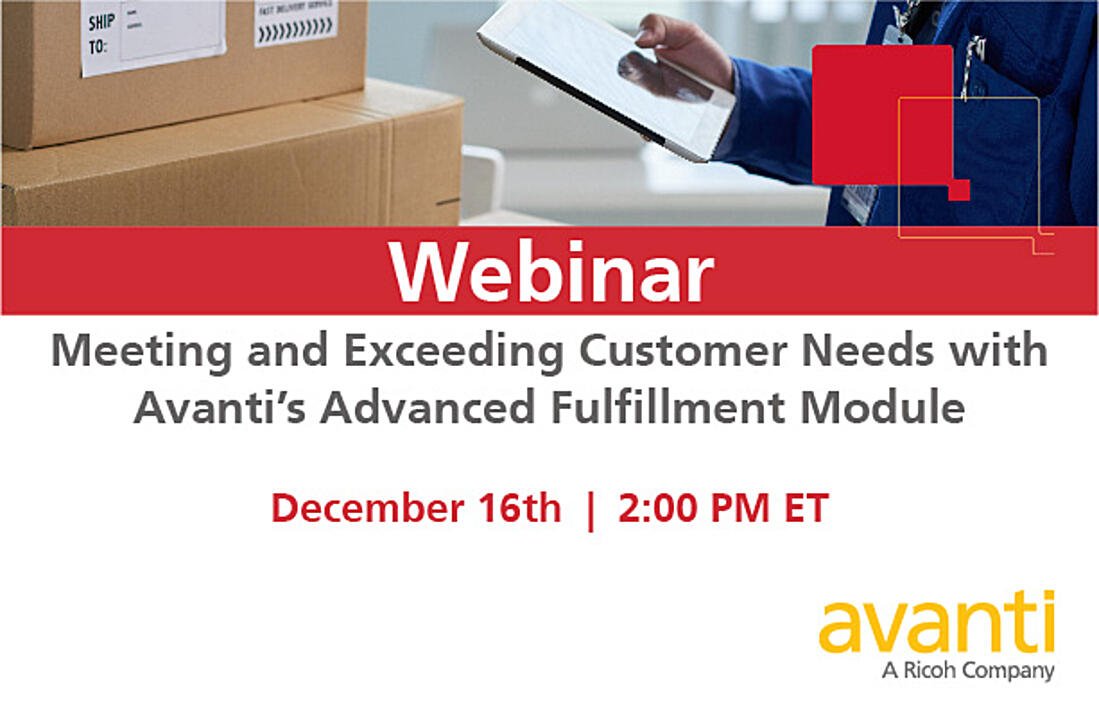 Our next webinar on Dec. 16 will discuss one potential area of growth for print companies: fulfillment. Don't miss "Meeting and Exceeding Customer Needs with Avanti's Advanced Fulfillment Module," where you'll hear how you can use Avanti Slingshot's automation functions in the fulfillment space. Reserve your spot here.