At Avanti, we're always looking for ways to empower print businesses with the technology and knowledge they need to deliver more jobs in less time. In the next month, we'll be hosting a few educational sessions to help print providers understand the value of automation on all parts of a business from end-to-end. Whether your organization is just starting its digital transformation journey or your organization has been an early adopter of technology, there's always more to learn, and we are here to help.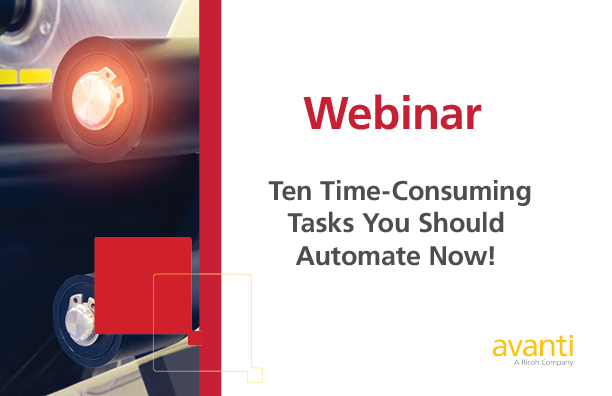 Check out what educational webinars we have coming up, and be sure to save your seats for these engaging and valuable discussions.
Meeting Modern Business Needs with Automation
Many print shops struggle with meeting customer demand—not due to lack of expertise—but because they continue to operate with manual processes that no longer meet modern production requirements. These inefficiencies result in slow turnaround times, sub-standard output and overworked staff.
However, these challenges also present a huge opportunity for print businesses to close operational gaps with the help of automation. In our upcoming webinar, Ten Time-Consuming Tasks You Should Automate Now!, we will be discussing pain points that contribute to operational inefficiencies in print production. You'll learn which costly manual processes you should automate, including web-to-print, estimating, order creation and material planning, and how this can help your business boost efficiency and profitability.
We understand that different markets have unique challenges, which is why we are offering two sessions--one for the U.S. and one for Canada-- that will cater to the needs and challenges of each.
RSVP to join us on Sept. 15, 2021 for the U.S. webinar or on Sept. 16, 2021, at 2 p.m. ET. for the Canadian webinar.
Register for the Canadian Webinar
A Wealth of More Information
Avanti is committed to providing print providers like you with information and resources that can help you drive continuous business improvements. Check out our on-demand webinars, covering topics from streamlining production to creating customized communication, boosting customer experience and empowering your sales team.