Landing new customers is an essential component of business growth, but it's not the only path to success. If you're an established print shop, you already have a huge resource at your fingertips - your existing customer base.
Expanding your wallet share within your existing customer base is a great way to deepen relationships and embed yourself as an essential extension of your customers' business. But how do you increase wallet share? What do you need to do to make sure it's a win for your customers AND your print shop? Read on to learn the five steps to approach customer wallet share for mutual success.
1, Understand Your Competition
To generate increased wallet share, you either need to add a completely new service that no other print shop is offering, or you need to steal business away from your competition. To best your competition, you need to know how you rank against them in your customers' minds and why. This article from the Harvard Business Review, Customer Loyalty Isn't Enough. Grow Your Share of Wallet, explains that while customer satisfaction is important, what matters most when it comes to share of wallet is whether or not you're their first choice. Understanding what your competitors do well and how they do it, and why your customers might choose them over you (even if they like you) allows you to make a better wallet share play with greater chances of success.
2. Understand Your Operations
After you understand your competition, review how your business is operating today. Are you meeting and exceeding customer expectations for speed and quality, or are you falling short? Are you spending time fostering a relationship with your clients, or are your interactions purely transactional?
As well, you want to be certain that your operations are running smoothly. If you still have myriad convoluted manual processes in place or problematic workflows, adding more volume could create additional stress on your business and may compromise your performance for your customers, putting the entire account at risk. Remember: you don't need to have every task or job automated to be successful; just make sure that you have the right processes in place for your business.
3. Understand Your Business
Once you know that the fundamentals of your business are sound, the next step to increase customer wallet share is to look at what you already offer, and what your customers are currently buying. Using business intelligence data from your Print MIS, focus on any products or services where you have capacity and the ability to maximize profitability.
4. Understand Your Customer
Once you've looked at your business and have identified where you want to expand share of wallet, you need to think about how to approach your customers. Look at your customer accounts and see what products and services they're already buying from you, and think about how you could position those additional offerings you previously identified as a support to their existing initiatives. If you suspect that they're already procuring those products or services from a competing vendor, make sure your pitch includes measures to address your competitors' rankings and strenghts (as discussed in step 1).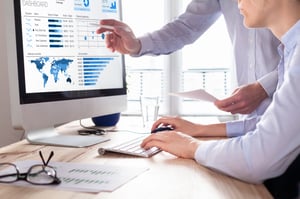 What's important to remember here is that this is not the time for a one-size-fits-all approach, as your customers will have different business models and target markets. You should be able to identify customer segments that share specific characteristics, to allow you to put together scalable campaigns.
For example: you may have a segment of customers that primarily turns to you for brochure printing, because their primary business-generation strategy is event marketing. For this type of customer, suggesting products like car wraps may not be particularly useful. However, sharing that you can deliver printed banner stands and branded promotional materials, and how you do it better than their existing provider (i.e., why you rank higher than the competition), is a compelling play.
On the other hand, you likely have a segment of customers who are highly local. For this group, you might want to share with them that on average, it takes five to seven impressions for customers to remember their brand, so they should consider investing in car wraps for their corporate vehicles. What's important here is that as you look to expand wallet share, you don't simply focus on where you want to grow, but rather, how your growth simultaneously benefits your customers' own business goals.
5. Understand Your Expansion Opportunities
After you've looked at what you already provide, its performance, and how it can augment your solutions for existing customers, the next way to grow wallet share is to expand what you offer. And the smartest way to know what to add is to take a look at your market and understand what's already on offer. When you're considering investing in equipment to deliver a new product or offering a new service, ask yourself:
Do my customers need this? Do they want this? If you don't know, ask!
What are my competitors doing? If they're already doing this, how can I do it differently? Is there enough volume in my market for this to make sense?
Finally, can I do this profitably? Based on the competitive market data I've gathered, is there an ROI and is it worth my time?
When you make the decision to expand to increase customer wallet share, you'll want to be certain that you take the right steps to integrate your new offerings into your automated Print MIS workflows, or you risk compromising the profitability assumptions in your analysis. Job Definition Format (JDF) certified solutions are a good place to start to maximize solution interoperability; make sure that your Print MIS API is flexible and future-proof as well.
As the steps above suggest, the best way to increase customer wallet share is with a thoughtful, data-driven approach. Take the time to fully understand the competitive landscape in your market. Make sure that your business is running smoothly and that you've implemented the automation tools necessary to allow you to seamlessly scale your volumes. Focus on where you have opportunity for growth within your existing capacity. Know your customer, and what they want and need. And finally, think strategically about how you expand your offering. If you're wondering how you'll find the time to build your own wallet share expansion strategy, check out our eBook, Ten Time-Consuming Tasks You Should Automate Now, to learn how Print MIS can free up hours in your workday to focus on business growth.